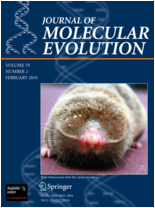 Journal of Molecular Evolution cover
Biological Sciences Lecturer and adjunct faculty in the Pre-Health Sciences Professional Certificate Program Robert Wisotzkey had new research published in Journal of Molecular Evolution.
He writes in "Distinct Molecular Evolutionary Mechanisms Underlie the Functional Diversification of the Wnt and TGFβ Signaling Pathways" that data suggests "two distinct molecular evolutionary mechanisms can create a functionally diverse developmental signaling pathway. These are the recent dynamic generation of new genes and ligand–receptor interactions as seen in the Wnt pathway and the conservative adaptation of ancient pre-existing genes to new roles as seen in the TGFβ pathway. From a practical perspective, the former mechanism limits the investigator's ability to transfer knowledge of specific pathway functions across species while the latter facilitates knowledge transfer."
Cal State East Bay students, faculty, and staff may read the entire article online via the library.
KL