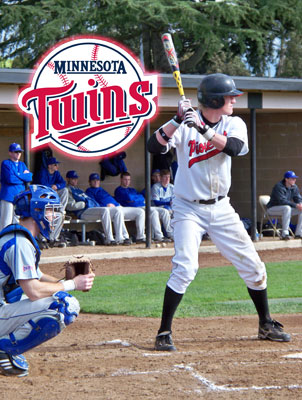 baseball player Devin Grigg
Cal State East Bay baseball player Devin Grigg has been selected in the 17th round of the Major League Baseball Draft by the Minnesota Twins. Grigg, a second-team All-CCAA selection as a senior in 2010, was the 525th overall pick and the Pioneers' first draftee since Ray Stokes in 2006.

The Alameda native started all but two games for East Bay this season, seeing most of his action in centerfield, while also serving as the Pioneers' top closer. Grigg hit .289 on the year, finishing the season with 43 runs and 33 runs batted in, good for second and third on the squad, respectively. On the mound, he made 14 appearances, posting a 2.89 ERA while going 5-1 and collecting a team-high five saves.
The senior was one of six conference players selected on the second day of the draft. The MLB Draft is in its 45th year, with high school seniors, community college and four-year college and university players being selected throughout the 50-round process. The 2010 draft will conclude on Wednesday and can be tracked online at mlb.
KH