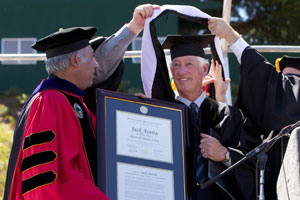 Jack Acosta accepts honorary doctoral degree at CBE ceremony June 12. (By: Scott Chernis)
It was a "deeply grateful" Jack Acosta who accepted an honorary Doctor of Humane Letters degree from Cal State East Bay during commencement ceremonies for the university's College of Business and Economics June 12. Acosta is a longtime Bay Area businessman and philanthropist who has been a major supporter of higher education, especially Cal State East Bay, and is a member of the university's educational foundation board of trustees.
He earned a bachelor of science degree in industrial relations in 1975 and an MBA in management science in 1978 -- both from CSUEB -- and has served on the boards of numerous companies, most recently as chairman and director of Sum Total Systems Inc. He also has been vice president and chief financial officer at Portal Software, executive vice president and CFO at Sybase Inc., and president and chief operating officer at Tanon Manufacturing.
In his June 12 commencement remarks, Acosta praised the university for "becoming a regional center of innovation and a gateway to educational excellence."

BZ