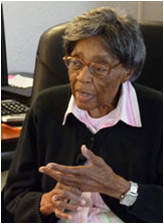 CSUEB student Ida Cotton (By: Barry Zepel)
CBS 5 (KPIX-TV) reporter John Ramos visited the Cal State East Bay campus June 9 to meet 85-year old Ida Cotton.
Cotton, who will be received her MA in counseling and gerontology during the CLASS commencement ceremony June 12, has been living for the last three years in a Pioneer Heights student apartment.  After raising five kids, she got serious about school in her late 70s and went back to college.
But, as Ramos reported, there's a twist to this story.  On Saturday when she graduates, she's needs to find a new home, as she needs to move out of campus housing just like other CSUEB students. Cotton has no family she can live with in the area. She has no money. She has no place to go.
Her academic advisor, Sally Murphy, said Cotton's ideal accommodations would be an efficiency apartment in the Hayward area where she knows a lot of people.
Watch Cotton's segment on the CBS 5 Web site.
Anyone who may be able to help should contact either Sally Murphy at (510) 885-2941 or Barry Zepel at (510) 885-3884.
KL