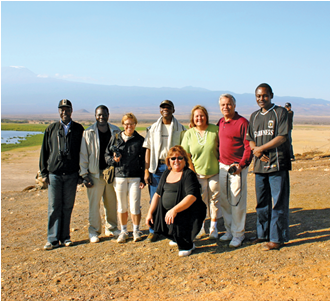 A group of people on a scenic background
Three Cal State East Bay faculty members, Melany Spielman, Richard Makopondo, and Bijan Gillani, are lending their hospitality and e-learning expertise to colleagues at Utalii College in Kenya to help improve tourism workers' skills.
Makopondo, who was hired by Nairobi-based Utalii College to come up with a plan to set up a distance learning program at Utalii. Makopondo is well versed in the challenges Kenya faces, after spending 11 years teaching hotel management at Utalii, a prominent government-run travel and tourism institution.
His plan, backed by $45,000 Utalii committed to fund the project after Makopondo sent in a proposal, will give the college the tools it needs to connect Kenya's tourism workers to the training they require for everything from managing a wildlife resort to running the kitchen of a major hotel.
The program would allow students to enroll at Utalii from far-flung locations across Kenya. Instructors at Utalii will use video and Internet-based tools — such as the Web-based e-learning software, Blackboard, that Cal State East Bay faculty members use — to teach workers a range of duties from desk hotel management to chef skills. The program also targets former students already working at resorts and parks throughout Kenya, giving them the chance to receive further training.
Read the rest of the article in the spring issue of Cal State East Bay magazine.
KL