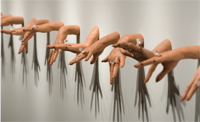 A row of expressive hands on a wall.
"Tan Hands," a ceramic and resin piece by Misty Gamble, '04 BA Studio Art, will be in the exhibition, "Undressing the Feminine," at the Mindy Solomon Gallery July 3-Aug. 14 in St. Petersburg, FL
One of her sculptures was featured in the New York Times article, "36 Hours in Kansas City, Missouri" that appeared May 16, 2010 in the Travel Section.
And, an interview with Gamble appeared in the Israeli magazine, "1280," printed in Hebrew.
Her website is: misty gamble
DD