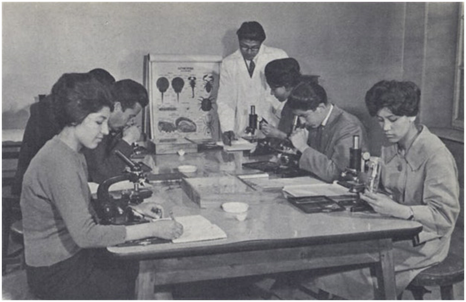 Kabul University In the 1950s and '60s
Cal State East Bay President Mohammad Qayoumi contributed a photo essay to Foreign Policy magazine depicting the Afghanistan of his youth, "Once Upon a Time in Afghanistan...Record stores, Mad Men furniture, and pencil skirts -- when Kabul had rock 'n' roll, not rockets."
With recently digitized images from a long forgotten photobook published by Afghanistan's planning ministry, Qayoumi comments on Afghanistan then and now.
 "Remembering Afghanistan's hopeful past only makes its present misery seem more tragic. Some captions in the book are difficult to read today: "Afghanistan's racial diversity has little meaning except to an ethnologist. Ask any Afghan to identify a neighbor and he calls him only a brother." "Skilled workers like these press operators are building new standards for themselves and their country." "Hundreds of Afghan youngsters take active part in Scout programs." But it is important to know that disorder, terrorism, and violence against schools that educate girls are not inevitable. I want to show Afghanistan's youth of today how their parents and grandparents really lived."
View the entire photo essay on the Foreign Policy Web site.
KL