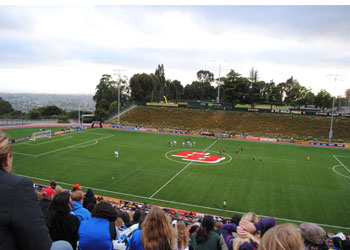 crowd of more than 3,500 fans watching the FC Gold Pride
The evening was a complete success for the FC Gold Pride, the Bay Area's team in the Women's Professional Soccer League, as it made its home debut in Cal State East Bay's newly-renovated Pioneer Stadium June 19. The Pride won its game against the Boston Breakers 1-0 before an estimated crowd of more than 3,500 enthusiastic fans.
The stadium featured a big new "EB" for East Bay at midfield, as well as widened playing area covered by an artificial turf that replaced real grass that had been been narrower to accomodate American football. The facility's lighting has been adjusted to accomodate television coverage scheduled for future FC Gold Pride home games. The team is led by Marta, a native of Brazil, who has been reported to be the greatest woman soccer player in the world.
Additional information about the Gold Pride's June 19 victory is available online, as is information about the team and its schedule.

BZ