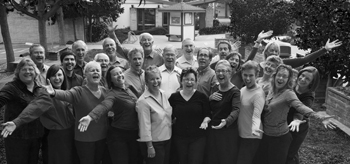 SF Bay Area Chamber Choir, conducted by David Stein
The San Francisco Bay Area Chamber Choir, conducted by Professor Emeritus David Stein, leaves June 24 for a 12-day concert tour to Turkey.
The group includes the following stuents and alumni: Sarah Cane(Moffit), April McNeely, Piper Robinson, Stephanie Cartwright, Patricia Jennerjohn, Mark Gouveia, Ryan Rey, Bruce Whitener, Steven Brunsvold, Rob Miller, and Fred Sandsmark.
They will perform in six cities, and share a concert with a choir in Antioch comprised of Christian, Jewish and Muslim members. They specialize in a cappella works of masters of the past and significant modern composers. Their tour repertoire will include Professor Frank La Rocca's recent work, "Ave Maria."
At the end of the tour Stein will retire from the post he has held for seven years.
Stein, who holds a Doctor of Musical Arts from the University of Illinois, retired from the CSUEB faculty in 2002 after 31 years.
More information on the choir is at: SF Bay Choir
DD