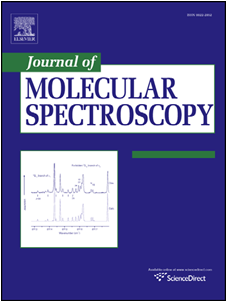 Journal of Molecular Spectroscopy cover
Assistant Professor Department Chemistry/Biochemistry Tony Masiello had a new article accepted for publication in the Journal of Molecular Spectroscopy.
New research documented in "High-Resolution Infrared Spectra of Bicyclo[1.1.1]pentane" provides new rovibrational parameters for bicyclopentane and useful comparisons with the unusual related molecule propellane.
The close agreement obtained between theoretical and experimental molecular parameters is quite encouraging, in two ways. First, it offers evidence that, despite some approximations and greater computational effort in the ab initio anharmonic calculations, the results are surprisingly accurate. Second, initial estimates of constants from such calculations can be extremely helpful in computing approximate spectra that can be a valuable and sometimes essential aid in assigning complex spectra.
CSUEB faculty, staff and students may read the entire journal article online.