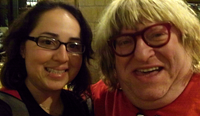 April Rodriguez with Bruce Vilanch at the RAEF benefit concert.
April Rodriguez, '05 BA Theatre and Dance, and instructional support assistant for the department, was the audio engineer for The Richmond/Ermet Aids Foundation One Night Only Cabaret July 12 at Club Fugazi in San Francisco.
Fourteen hours into the gig, she had a moment to pose with Bruce Vilanch for a quick picture.
The evening brought together writer/actor Vilanch and actress Sharon McNight, plus cast members from the touring Broadway musicals, "Young Frankenstein," and "Wicked," to raise funds for the AIDS foundation and Broadway Cares/Equity Fights AIDS.
Cast present from "Young Frankenstein" were Preston Boyd, Lawrence Alexander, Jeff Knaggs, Jennifer Smith, Stephen Carrasco and Brad Oscar. Cast present from "Wicked" were Libby Servais, Felicia Ricci, Laura Dysarcyk, Holly Hyman and Zach Hensler.
The Richmond/Ermet AIDS Foundation has worked with more than 32 touring casts to date to produce "One Night Only Cabaret" events To date, REAF has distributed well over $2.5 million to AIDS service agencies.
DD