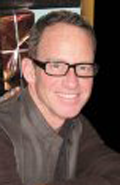 Head shot of Scott Chambliss
Watch for '85 theatre and dance alumni Scott Chambliss' name in the credits as production designer when you catch Angelina Jolie's latest film, "Salt," opening Friday!
As production designer, Chambliss works closely with the director and producer, and is responsible for the overall look of the film, including design of the sets, location choices, and choice and supervision of props.
This film comes on the heels of Chambliss' work on the feature film, "Star Trek," that earned him award nominations from the Art Directors Guild of America and the Washington D.C. Area Film Critics Association, and a 2002 Emmy for art direction on the network television show, "Alias."
Chambliss began his career as an associate set designer on several Broadway productions. He then became an assistant art director on the films Scenes from a "Mall"(1991) and "Malcolm X" (1992, featuring Albert Hall, Tim Kelleher, James MacDonald, Christopher Plummer, Kate Vernon, and Craig Wasson).
He is currently working on "Cowboys & Aliens," a Damon Lindelof and Mark Fergus film starring Daniel Craig, Olivia Wilde and Harrison Ford, that is due out in a year.
DD