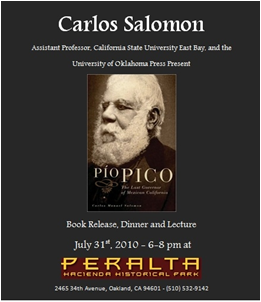 Pio Pico event flyer
Carlos Salomon, assistant professor of ethnic studies and director of the Latin American Studies program, will inaugurate the new community center at the Peralta Hacienda historical park on July 31 from 6pm-8pm with a lecture, book signing, and dinner celebrating his new book, "Pio Pico: The Last Governor of Mexican California" (2010 University of Oklahoma Press).
"I am a resident of the Fruitvale in Oakland, so this will be a nice community event," said Salomon. "The Peralta hacienda is perfect, since Peralta and Pico lived in the same period, were both involved in the affairs of early California, and knew each other well."  The CSUEB community is invited to attend. Visit the park's Web site for directions.
Salomon will also present "Pio Pico" on Friday, October 8 at 7:30pm at the El Presidio de Santa Bárbara State Historic Park in Santa Barbara, CA.
Read more about Salomon's book in an earlier news story, "Pio Pico comes to life in new book by CSUEB professor."
KL