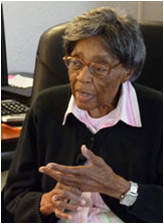 Ida Cotton by: Barry Zepel
Recent Cal State East Bay graduate Ida Cotton will appear on the local TV program, "Bay Area People", this weekend.  85-year-old Cotton will be joined by Hazel Soares who just earned a BA in Art History from Mills College at the age of 95. KTVU's Rosy Chu hosts the weekend show.
The KTVU Web site posted the following about these senior graduates: "These exceptional ladies went back to school to complete their educational journey, 60 to 70 years after high school. …They serve as an inspiration for our community, reminding all of us that, "It's never too late" to receive education."
Watch Cotton on Saturday July 3 at 6:30am on KTVU Channel 2. The program repeats on Sunday July 4 at 9:00am on KICU Channel 36.
Read an earlier story about Ida Cotton.
KL