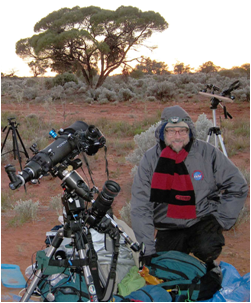 Chris Kitting (wearing a CSUEB scarf) with some of his 400+ lbs of equipment in the sub-freezing dawn (by: Chris Kitting)
Cal State East Bay Professor Chris Kitting lead an international team of scientists from five countries on a NASA ground mission with the Japanese Aerospace Exploration Agency (JAXA) in June 2010. The team analyzed the unusually fast reentry of the unmanned spacecraft, Hayabusa, over the Australian Outback (view NASA video). 
Kitting's main focus was the fate of detectable aerosols left behind the trajectory throughout the atmosphere. "To calculate 3-D trajectories of fragments," said Kitting, "The team triangulated our imagery from different wavelengths throughout reentry against background stars using precise GPS time. We then compared our finding to analogous imagery in NASA's airborne observatory that was located down range."
Despite record-breaking cold temperatures while camping in the far reaches of the Outback in the southern winter, Kitting said the mission went as planned. He was especially thankful to the University of Queensland and University of South Queensland for their valuable logistical support, including providing camping gear.
He said the team's biggest challenge was transporting more than 400 lbs of optics, accessories, and batteries out into the remote Woomera Missile Range.
With tight budgets and limited funding, Kitting has indicated that donations towards his work may be made to the biology department via the College of Science Leadership fund.
Read the original story from April 2010, "CSUEB professor plans upcoming NASA mission."
KL