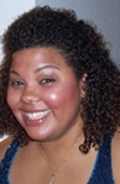 Chantel Johnson
Chantel Johnson '07 (Sociology and Social Services) is featured on a KQED Radio "California Report" story on Assembly Bill 12 that would extend state foster care services three years to age 21.
Johnson, who was ASI student body president during her senior year, is a Legislative and Policy Coordinator for the Sacramento Office of the California Youth Connection, an advocacy program for those in the foster care system.
The story notes that while on average persons in a stable home situation receive support from their family until age 26, each year Caliofornia turns out 5,000 foster care persons at age 18. Chantel, who was one of them, tells the reporter that most of her peers ended up on the streets, as they had no life skills to guide them. And, whereas the foster youth share the same dreams as other youth, currently, only two percent will ever finish college.
San Jose State Senator Jim Beall's measure would draw on a federal matching program to provide foster youth with the three additional years' of support.
The first of two segments aired the morning of Monday, Aug. 9, 2010; the second will air Tuesday, Aug. 10. The first segment of the interview.
Johnson was also on the cover of the Spring 2008 issue of Cal State East Bay Magazine. Read the full story (PDF).