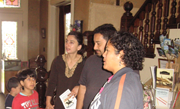 Woman conducting tour of historic house.
Someday, the research compiled by the Cal State East Bay Public History students may be available for all at a new Hayward Area Historical Society Museum on Foothill Boulevard.
Linda Ivey, assistant professor of history and coordinator of the department's public history program, is working toward a full-integrated partnership between the campus and society to provide continual, real-life training in museum work for CSUEB students, including help creating an area for student work on the original Eden Township (Castro Valley, Hayward, San Lorenzo) in the society's future 17,000 square foot museum space on Foothill Boulevard that is expected to open in May 2011.
The Public History program works with local museums and historical institutions to offer student internships and link student work to public venues.
Ivey teaches courses in the history of California and the West, as well as in environmental, immigration, and public history.
History undergraduates may complete a certificate in public history, and graduate students may complete an option in public history. Students may work at all of the society properties: the downtown museum, the McConaghy House on Hesperian Boulevard, and the Meek Estate, on Hampton Road.
DD