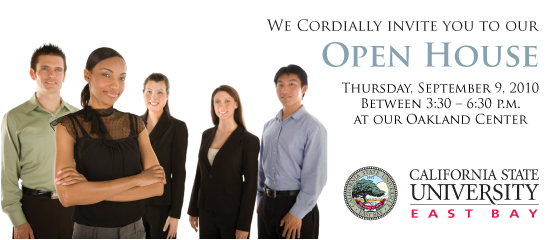 Continuing ed flyer
Come explore the many ways you can enrich your life, advance your career, or change professions with one of the 60+ Continuing Education certificate and degree programs offered by Cal State East Bay.
During our Open House, Continuing Education faculty, instructors and staff will answer questions and discuss the many academic, professional, and learning opportunities being offered in 2010-2011. Representatives from Veterans Affairs, Career Counseling, and Educational Financing will also be on hand to consult on the resources and steps needed to pursue your personal and professional goals.
Whether in a traditional classroom, online or a combination of both, Cal State East Bay is committed to providing the continuing education and training you need to enhance your life. Visit the event Web site for more information.
Date: Thursday, September 9th
Time: 3:30PM - 6:30PM
Location: CSUEB Oakland Center 1000 Broadway, Suite 109, Oakland, CA 94607
DB/KL