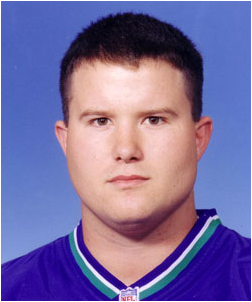 Frank Beede
Former Seattle Seahawks offensive lineman and Cal State East Bay alumnus Frank Beede has been named the 2010 NFL Teacher of the Year. The award recognizes a former NFL player who is now working professionally as a teacher.
Beede, who earned his teaching credential at Cal State East Bay, is now a history teacher at Freedom High School in Oakley, CA.
Freedom High School Principal Erik Faulkner nominated Beede and wrote in his nomination essay, "Frank is a very modest individual. … I have heard him talk about the fact that he never considered himself a gifted athlete, but that it was his work ethic and attitude that carried him to that level. He relates this learning experience to his students to let them know 'it is not about the skill, but it's about the will."
Way to go, Frank!
KL