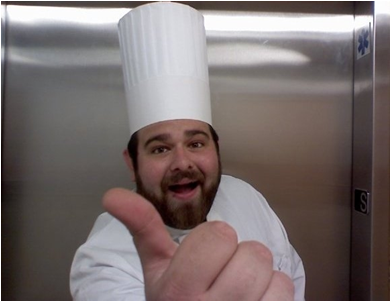 Jeremy Reimer
Congrats to Jeremy Reimer, ARAMARK chef at Cal State East Bay, who took home the bronze in the 2010 ARAMARK Culinary Excellence competition.  More than 150 ARAMARK chefs from colleges, universities and conference centers across North America competed for a chance to win the prestigious "Copper Pot" and a medal from the American Culinary Federation (ACF), the largest professional chefs association in North America.
Reimer was teamed up with two other west coast-based chefs  and given three hours to fully execute an appetizer, entrée and dessert that included items from a mystery basket crafted from local San Francisco Bay ingredients, including a whole chicken, fava beans, artichokes, almonds, and a whole Black Bass.
"We are very proud of all of the chefs who competed for culinary excellence," said David Reusche, ARAMARK Higher Education's National Director of Catering. "In addition to showcasing their talents and creativity, the chefs were able to earn continuing education or recertification credits from the American Culinary Federation."
With such a talented chef on campus, it's no wonder that students and guests are raving like @daricsa11 who tweeted, "CSU East Bay has really good food :)"
Congrats, Chef Reimer!