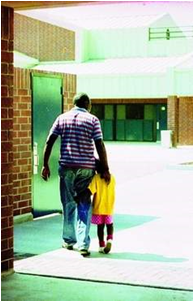 Brittney Salter
Seventeen years ago, a photographer from Stockton's The Record captured Brittney Salter's first day of kindergarten at Brookside Elementary. The newspaper photo ran on the front page in Aug. 31, 1993 and depicted 5-year-old Salter crying as she leaned her head against her father and wrapped her right arm around his leg.
Salter graduated from California State University, East Bay this spring with a bachelor's degree in criminal justice.  At her celebration party, her aunt suggested that Salter and her father re-enact that scene from nearly 17 years earlier. The new and old images of father and daughter were used on a thank-you card for her graduation gifts.
See a recent photo of Salter and her father on the The Record Web site.
KL