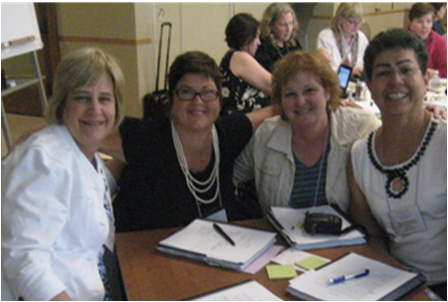 From left to right, Lynn Van Hofwegan, Roberta Durham, Barbara Maertz, and Elaine Shingleton
Nursing faculty Roberta Durham, Barbara Maertz, Elaine Shingleton, and Lynn Van Hofwegan attended the 2010 Quality and Safety Education for Nurses (QSEN) Forum in Palo Alto, CA. The conference focused on educating faculty leaders to improve quality and safety education through exposure to innovations in curricular design and teaching strategies.
"Over 100,000 patients die in US hospitals every year from preventable medical errors," said Durham. "Professional nurses play a critical role in protecting patient safety and providing quality health care. Over the next year Cal State East Bay's nursing faculty will be working to integrate the competencies highlighted in the Quality and Safety Education in Nursing QSEN initiative, such as patient-centered care, teamwork, collaboration, evidence-based practice, quality improvement, safety, and informatics more fully into our nursing curriculum."
QSEN is sponsored by Robert Wood Johnson Foundation, the American Association of Colleges of Nursing, and the Gordon and Betty Moore Foundation to address the challenge of preparing future nurses with the knowledge, skills and attitudes necessary to continuously improve the quality and safety of the healthcare systems in which they work.
KL