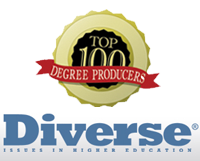 Diverse Top 100 Degree Producers logo
Cal State East Bay's multicultural learning experience was recognized in Diverse Issues in Higher Education's annual "Top 100" list, ranking colleges that confer the most degrees to students of color. Twelve other CSUs also appear on the national list, which is based on the total number of degrees awarded to minority students across all disciplines.
On the 2010 list, CSUEB is No. 62 for bachelor's degrees and No. 78 for master's degrees awarded cumulatively to minority students. The list also includes rankings by individual minority groups, as well as individual degree areas, where CSUEB makes a strong showing in overall undergraduate degrees awarded to minority students in Health Professions and Related Clinical Sciences (22nd) and Business, Management, Marketing, and Related Support Services (37th).
SS