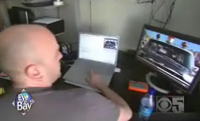 Man editing film on a computer.
September 2, 2010 11:45am
Evan Donn, multimedia, 2002, and Dinah deSpenza, a second year multimedia graduate student, are featured on an "Eye on The Bay" profile of teams as they scrambled to compete in the annual San Francisco "48-hour Film Project."
Their team, "It Donned on Me," had just 48 hours between receiving their directions for a required element – in their case: a medical supply – at 7 p.m. Friday, July 30 and submitting their completed film Sunday, Aug. 1 at 7!
Along the way, the CBS film crew was recording their moves.
Catch the action at the following segment begins at 17:24 minutes, is at:
Donn is in a gray shirt and dark sunglasses, and is bald; deSpenza has a thick brown hair band and a gray tee-shirt.
Biographies on Donn and deSpenza, and others
DD