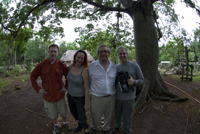 Four people in front of a tree.
Four multimedia graduate students have returned to campus with hours of video and hundred of images from Maya archaeological sites on the Yucatan peninsula. There, they gathered first-hand information for their group masters thesis, "Yaxche: The Tree of Life," a multimedia game to be completed by June 2011.
Students Patrick Conlan, Fabian Magaloni, Lilia McIntyre and Bruce Mishkit, accompanied by Professors Phillip Hofstetter and Janet Green, visited six Maya sites in six days this summer, some in active excavation, and interviewed several archaeologists and archaeology students, and interacted with contemporary Maya people.
The project focuses on collaborative interpretations of life in an ancient Maya society, using the leading-edge technologies of Apple's iPhone and iPad.
Hofstetter, who authored the book, "Maya Yucatan – An Artist's Journey," organized the trip.