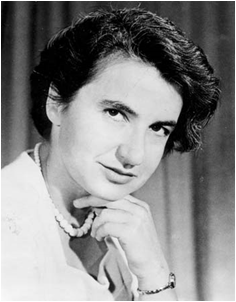 Rosalind Franklin (by: wikipedia.com)
Lynne Elkin, Cal State East Bay professor emerita biology, will present, "Rosalind Franklin: Discovering the Double Helix," as part of the Osher Lifelong Learning Institute (OLLI) series on the Concord campus.
Watson and Crick, masters of DNA, never acknowledged in their famous papers or 1962 Nobel Prize acceptance speeches the crucial contribution Rosalind Franklin made to their work. Franklin was the X-ray diffraction expert who recorded the data which allowed Watson and Crick to build the backbone of their model of DNA as early as March 1953. Tragically, Franklin died of ovarian cancer in 1958, just 37 years old, never having received credit for providing the crystallographic data that helped unlock DNA's secrets.
Visit the OLLI Web site for more information or to register for the program. 
KL