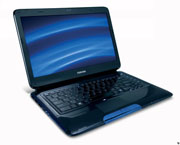 laptop (by: Gadgethobby.com)
September 30, 2010 5:16am
A handful of CSUEB freshmen will start off fall quarter with a new laptop donated by Best Buy through a Cal State East Bay program.
In May, Marco Hernandez, president of Upward Bound at CSUEB, solicited a request from Best Buy for a donation of school supplies. The mega store complied and gave new computers away to 16 high school seniors participating in Updward Bound.
"It was purely altruistic," said Diana Warren, director of Upward Bound. "It was great because of the fact most kids we deal with in our program don't have access to a computer."
Since 1990, Upward Bound has been helping low-income and first generation high school students get acquainted with college. Offering college tours, counseling, and help with financial aid, the program assists 65 students at CSUEB every year. 
The Sony Notebook laptops will also be used for the students' personal use at home.
"They were caught off guard. It was a surprise," Warren said. "And everyone knows college students are pretty much lost without a computer."
BZ