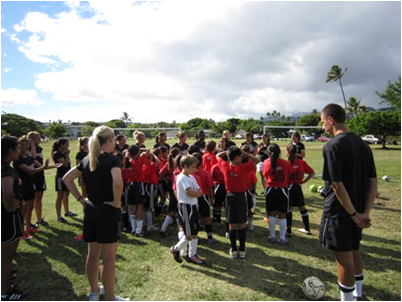 CSUEB women soccer
September 21, 2010 5:00am
While in Hawaii for a tournament, CSUEB women's soccer Coach Amy Gerace and her players conducted a technical skills clinic for the U-10 Soccer Team, a co-ed group of children under the age of ten.
"Several factors resulted in our successful clinic," said Gerace. She cited the CSUEB soccer players' enthusiasm and energy with the young players, organizational structure of the clinic, and the overall attention that CSUEB players gave the young players.
U-10 Coach Rick Chong agreed, "It was definitely one of our better clinics as evident by the immediate connection our U10 players made with [CSUEB] players."
Go Pioneers!
BH/KL