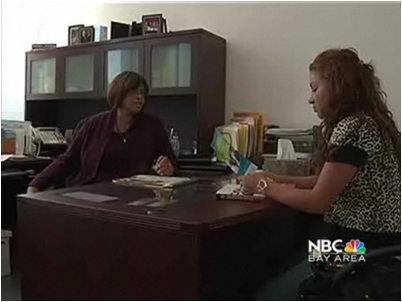 Rhonda Johnson with student Viviana Rodriguez (by: nbcbayarea.com)
CSUEB Director of Financial Aid Rhonda Johnson and student Viviana Rodriguez spoke to NBC Bay Area News anchor Chris Sanchez about the growing number of students on food stamps.
Rodriguez, a junior who uses food stamps, said, "If you don't eat breakfast and you don't eat lunch, you're not going to be able to study or focus."  This gives Johnson concern, "We literally have students coming to us saying, 'I'm out of food, I can't eat.'"
Johnson acknowledges that there are 119 students at CSUEB on food stamps, and that number is likely to increase when school starts back this fall.  Her office is inundated with students who have immediate needs that they didn't have the prior year.  In addition to food stamps, students are able to apply for an emergency loan and get a check within twenty-four hours.
Watch the entire interview on the NBC Bay Area Web site.
BH/KL