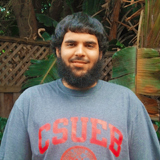 QAIS AHMADI '10
September 20, 2010 5:00am
Cal State East Bay graduate student Qais Ahmadi has received one of the highest forms of recognition for student accomplishment in the California State University system, the William Randolph Hearst/CSU Trustees' Award for Outstanding Achievement.
Hearst scholars will be honored  Sept. 21 at the CSU Office of the Chancellor in Long Beach.
Ahmadi '10 earned a bachelor's degree in English from CSUEB and is pursuing a master's degree. A second-generation American of Afghan descent, Ahmadi has served as his family's interpreter throughout his life, acting as a bridge between two cultures. While helping support his family, Ahmadi succeeded in his studies with assistance from the EXCEL program. He graduated with a 3.68 grade point average.
The Hearst/CSU Trustees' award is given annually to one student at each CSU campus. Recipients have demonstrated financial need, experienced personal hardships, and have attributes such as superior academic performance, a record of exemplary community service and significant personal achievements.
Ahmadi volunteers with EXCEL as a mentor and tutor and enjoys encouraging young Afghani-Americans to pursue education. Following graduate school, he plans to teach English as a second language and volunteer as a teacher in Afghanistan.
Learn more about the Hearst/CSU honorees at the CSU Foundation.
MB