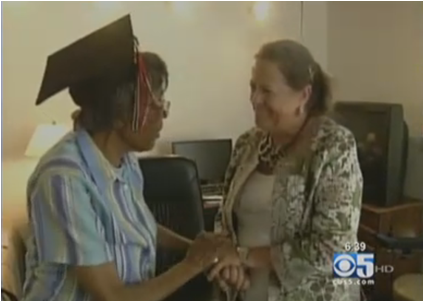 Ida Cotton and Sally Murphy
September 17, 2010 3:00pm
Ida Cotton made news earlier this summer when she graduated from Cal State East Bay with her MA in counseling and gerontology. But her story had a twist; Cotton had been living in campus housing for three years and needed a new home. With no family in the area and no money, she had no place to go.
Cotton's story touched many of their viewers so CBS5 reporter Sherry Hu stopped by campus this week to learn more about Cotton's good news. 
Thanks to the diligent efforts of her academic advisor, Professor of Communication Sally Murphy and the CSUEB community, Cotton is leaving campus living for an apartment in Oakland.  "Our greatest fear," said Murphy, "was here was a woman who had achieved her master's degree at age 85 and, suddenly, would be homeless.  And, that was unthinkable."  Murphy is described in the news segment as being both Cotton's academic advisor and "main hand holder."
Generosity and good will extended beyond the CSUEB borders. The Lion's Club of San Leandro arrived a few days ago to help Cotton pack her belongings and move.
"One of the goals of the University is to create lifelong learners," said Murphy. "And, Ida is the perfect model of a lifelong learner."
Read previous news story about Ida Cotton.
KL