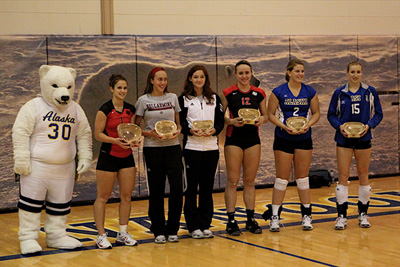 Linda Foster Arden (by: Ron Allen)
Cal State East Bay women's volleyball player Lauren Massa took home Most Valuable Player honors at the Nanook Classic last week, hosted by the Univeristy of Alaska-Fairbanks on Sept. 3-4. The Pioneer volleyball team made the trip to the Land of the Midnight Sun to open the 2010 season and finished the week with an undefeated record.
Massa, a senior from Loveland, Colo., recorded 57 digs in the back row to help the Pioneers capture the tournament title with three wins over University of Charleston, Bellarmine University and the host Nanooks.
In the Pioneers' final match against Alaska-Fairbanks, Massa collected a season-high 24 digs. She had 17 and 16 digs respectively against Bellarmine and Charleston, both three-game sweeps for Cal State East Bay.
"Massa had an outstanding tournament," Pioneer Head Coach Jim Spagle said. "She's off to a great start in her senior season."
Along with MVP honors, Massa was named to the All-Tournament Team. Freshman outside hitter Katie Allen, who led the team with 46 kills and .316 hitting percentage in her Pioneer debut, also received All-Tournament recognition.
KH