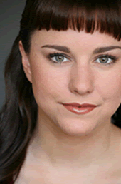 Marissa Keltie
September 3, 2010 12:00pm
Look for alumna Marissa Keltie, theatre and dance, 2004, in the "Keep an Eye On" section of the September issue of "Theatre Bay Area Magazine."
Keltie grew up in Fremont and graduated Cum Laude from CSUEB with an acting option.
She is a member of the Impact Theatre Company in Berkeley, and teaches at St. Edward School in Newark and StartStruck Theatre in Fremont.
She was a recipient of the Theatre Bay Area's 2009 Titan Award, which provides $2,500 toward implementation of her personal business plan.
CSUEB theater-goers may remember Keltie as Viola in "Twelfth Night," the last show to be directed by the late Edgardo De La Cruz.
DD