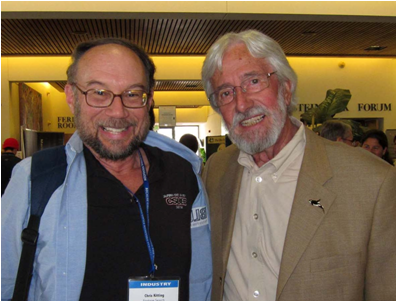 Chris Kitting and Jean-Michel Cousteau (by: Chris Kitting)
Biology Professor Chris Kitting served as a delegate to the 2010 Blue Ocean International Environmental Film Festival, a global film festival and conservation summit for underwater filmmakers and marine researchers.  
Originally recorded for Google Earth's ocean layer, RTSea Production's video,"Humboldt Squid: an invader in the Sea of Cortez," was selected as a featured finalist in the film festival.  The video shows Kitting's expedition with CSUEB student Mike Hawley to study these jumbo squid earlier this year. View video.
In six degrees of separation from CSUEB biology, Kitting's former CSUEB graduate student, Dan Baron and his company, FootageSearch, was a major co-sponsor of the festival.
Kitting said one of the highlights was meeting Jean-Michel Cousteau, son of the legendary Jacques Cousteau and a member of the film festival's global advisory board.  Director James Cameron and congressional members also participated in the summit to discuss environmental education, policies, and legislation.
The Humboldt squids and Kitting will appear again this fall, along with Captain Scott Cassell, on National Geographic's Hooked television show.
With tight budgets and limited funding, Kitting has indicated that donations towards this CSUEB work may be made to the biology department via the College of Science Leadership fund.
BH/KL