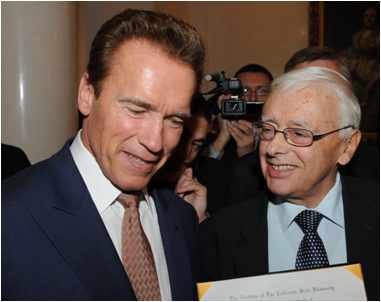 Arnold Schwarzenegger and Edvard Goyzman
During his October 2010 visit to Russia, California Governor Arnold Schwarzenegger met with Edvard Goyzman, rector of the Institute of Business and Economics, Cal State East Bay's long-time partner in offering an MBA program to Moscow professionals.Goyzman took the opportunity to show Schwarzenegger the CSUEB diploma, signed by the governor, which all Moscow MBA graduates receive.
The Moscow MBA program offered by CSUEB and the Institute of Business and Economics recently celebrated its 17-year partnership. The program is a two-year evening MBA degree accredited by AACSB International, the Western Association of Schools and Colleges, and by the Russian Ministry of Education and Science. 
KL