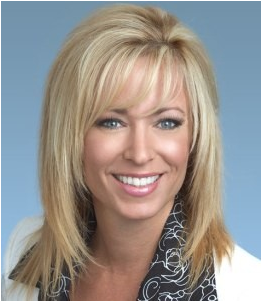 Jamie Susslin (by: theultimatesportsman.com)
CSUEB grad Jamie Susslin is gaining notice as the popular host of, "Ultimate Sportsman," reality TV show on the Versus channel where 12 sportsmen and women pit their outdoor skills against each other.
Susslin graduated from Cal State East Bay with a bachelor's degree in criminal justice.  After a career-ending injury while working as a BART police officer, Susslin tried her hand as a private investigator, a small-business owner and a real estate agent.  "Ultimate Sportsman" producer Tim Gauthier approached her at a Wild Sheep Foundation convention a few years ago with an offer to host the program after watching Susslin charm the convention audience as a guest speaker.
In a recent Sacramento Bee article, Susslin said that she has always preferred being outdoors. When she was little, she had wanted to fish so bad that she didn't wait for anyone to give her a fishing pole. "I got a stick and found a line and got a hook and found a worm and put it on there," she said. And she actually caught a fish.
"The Ultimate Sportsman" appears on Versus at 7 a.m. Thursdays. The 22-episode series, which began July 29, pits 12 contestants against one another in hunting, fishing and conservation-related contests for the title "Ultimate Sportsman." 
Good luck, Jamie!
KL