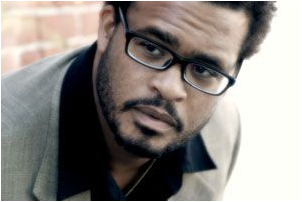 Jamison Reeves '01 (by: adweek.com)
Cal State East Bay Mass Comm alumnus Jamison Reeves '01 is everywhere. He's the guy with the big, square, nerdy black glasses and hip hair having a beer on the roof with his buds in a Bud Light spot; he's grilling in the backyard in winter with his buds in a Honda spot; he's snuggling on a couch with his wife in a Time Warner Cable spot.  Watch the Bud Light "roof fixing" video. 
He recently participated in a Q & A session with Adweek Reporter Barbara Lippert and spoke about how he broke into commercials.
"I always performed in high school in the marching band and the orchestra as the only guy in the flute section," said Reeves. "I also did track, football, basketball in high school, and track in college at Cal State Hayward (East Bay) ... I was in Guys and Dolls in college and then didn't get back into acting until I started studying at ACT in San Francisco in 1994."
Read the entire Adweek interview.
KL