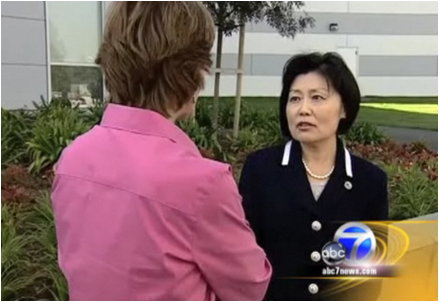 Laura Anthony and Joanna Lee
ABC News 7 (KGO-TV) reporter Laura Anthony interviewed Chong "Joanna" Lee, chair of Cal State East Bay marketing department, for her report, "Chevron launches campaign addressing backlash."
Chevron launched their "We Agree" advertising campaign to help counter low public opinion of the oil industry after the gulf oil spill.  The ads are gaining attention because it shows real people asking Chevron tough questions about renewable energy, community support where they operate, and providing good jobs.
"It's a very timely strategy," said Lee. ""It does talk about reinvestment to the community and the renewable energy and technology and education and I don't think the company has any choice but to back it up with their action."
Watch the news segment
Marketing Professor Joanna Lee spoke to ABCNews 7 reporter Laura Anthony about Chevron's new "We Agree" advertisements.
KL