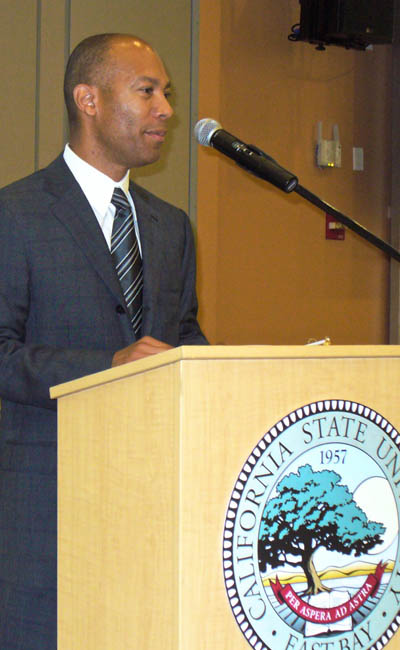 Ken McNeely at podium with CSUEB seal
Cal State East Bay was proud to host "A Call to Action: Advancing California's Science, Technology, Engineering, and Mathematics (STEM) Innovation Ecosystem" last Thursday, Oct. 14. Sponsored by the California Council on Science and Technology (CCST), TechNet, and CSUEB, the event brought together representatives from some of the Bay Area's biggest high-tech companies to discuss ways to transform California's education system so the state can compete more effectively in the new global economy.
Panels and speeches covered such topics as reimagining STEM education for both students and teachers; integrating technology more effectively in higher education; research and development and entrepreneurship; and the role of STEM in America's future. Special thanks to the panel moderators: Ian Temple, Senior Director of Global Operations and Education, Cisco Systems, Inc; Susan Hackwood, Executive Director, CCST; Kim Polese, Entrepreneur and TechNet Executive Council Member; and CSUEB Provost James Houpis.
Dean Carolyn Nelson of CEAS also participated on a panel, and Greg Smith, AVP of planning and enrollment management, served as the master of ceremonies. Other attendees provided the perspectives from education, philanthropy, and policy-making on the future of STEM education and California's economy.
President Mohammad Qayoumi gave the opening remarks, addressing the unique value Cal State East Bay brings to the STEM innovation ecosystem:
Urban public universities offer several enablers in building a well prepared regional workforce, because more than two thirds of their student bodies come from the local area and over 80 percent of their graduates work and live in the region. …They are distinctly equipped with individuals with the needed breath and depth of the skills and innovation tools, to engage in these issues and provide solutions.  …In short, an urban public university can act as an anchor institution for innovation ecosystems, serve as a catalyst of economic development for enduring regional success.
Recommendations and objectives from the event will be considered for a report CCST is preparing for the California State Legislature.