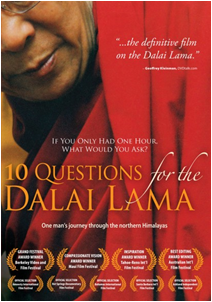 movie poster (by: rickrayfilms.com)
How do you reconcile a commitment to non-violence when faced with violence?
Why do the poor often seem happier than the rich?
Must a society lose its traditions in order to move into the future?
Against the backdrop of an exotic land, a lone filmmaker, Rick Ray, is granted one hour to ask ten questions of the 14th Dalai Lama of Tibet.  His documentary, "10 Questions for The Dalai Lama," contains rare historical footage as well as footage taken inside Tibet.  Part biography, part philosophy, part adventure and part politics, the film conveys more than history and more than answers - it opens a window into the heart of an inspiring man. View movie trailer. 
Ray will screen his film on Nov 17 at the new University Union Multipurpose room on the Cal State East Bay Hayward campus. This free event starts at 12pm and will include a free lunch. Event is sponsored by Associated Students, Inc., CSUEB Department of Philosophy, and the Philosophy Students' Society.
KL