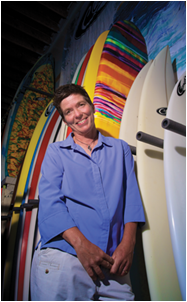 Becky Beal (by: Jesse Cantley)
For Becky Beal, associate professor in the Department of Kinesiology at Cal State East Bay, the jump from the underground culture of skateboarding to the halls of academia isn't as difficult a maneuver as it may seem. Both involve perceiving the world in an independent, unconventional way.
Beal — who conducts rigorous academic research on sport's connection to society, politics, race, and gender — has made the study of skateboarding culture, and the ways it has been adopted and commercialized by mainstream society, a focus of her work. She's recently expanded her studies to include surfing. Fittingly, her small office in the Physical Education building on the Hayward campus is adorned with memorabilia including a colorful surfboard-shaped message board, a radio-controlled Tony Hawk toy, and poster of Cara-Beth Burnside, one of the world's top female skateboarders.
The path that brought Beal to this office features a few twists and turns. Growing up in Minnesota in the 1960s and '70s, Beal was athletic and loved to play but wasn't happy participating in organized sports. "I never liked the regimented, authoritarian perspective," she says. But when she moved to southern California to study history at Pomona College, she had a different athletic experience running middle distance and cross country. "They were teachers, not authoritarians," she says of her college coaches. "The experience really affected my way of looking at the benefits of participating in sport."
She substitute-taught at the high school level, which she didn't enjoy, and coached, which she loved. She went to graduate school with plans to coach full-time and there took a class on the sociology of sport that changed her direction.
"I (became) interested in (studying) people who chose an alternative model of sport because of my own history of not always fitting in with the mainstream," she explains, "That's how I got involved with skateboarding."
Read more in the Fall 2010 issue of "Cal State East Bay" magazine.
KL