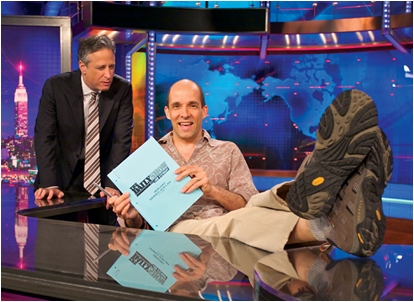 J.R. Havlan '87 with his "Daily Show" boss, Jon Stewart (By: Jesse Cantley)
Need help getting people — more than a million people — to laugh every night, often at seemingly unfunny subjects from a bad economy to the worst oil spill in U.S. history? Call comedy writer and CSUEB alumnus J.R. Havlan '87. 
Through unorthodox career choices, irrepressible wit, and an uncanny ability to improvise, Havlan has supplied the words that have yielded laughs for big names in TV comedy including Bill Maher, Steve Carell, and Stephen Colbert. His current boss is Jon Stewart, mock news anchor for the Comedy Central cable network hit The Daily Show with Jon Stewart.
As a kid growing up in Danville, Havlan didn't yearn for a career in show biz and never expected one day he'd get paid to be funny.
He didn't take acting classes or perform stand-up comedy until after graduating from Cal State East Bay, although for Halloween one year in grade school he dressed up as mute comic Harpo Marx. By the time he enrolled in business courses at then-Cal State Hayward in the 1980s, Havlan assumed he'd spend his career at a typical office job.
"My sense of humor was there, but I didn't think of being a comic," he says. "My idea was to go to college and get a business degree."
Read more about how Havlan made it from Hayward to the "Daily Show" in the Fall 2010 issue of "Cal State East Bay" magazine.