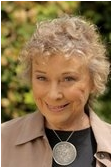 Marcelline Krafchick
Congrats to Marcelline Krafchick, professor emerita of English! Her new book, How Belief Stories Matter: An Approach to Myth, is a finalist in USA Book News 2010 Best Books Awards in the category of Multicultural Non-Fiction.  
Krafchick's book offers a means for scholars, teachers and general readers to deal with the vast range of worldwide belief stories—Ashanti to Hindu, Christian to Navajo.  It explores how three components of belief systems--(a) doctrine, (b) ritual, and (c) story/myth--reinforce one another to carry forward values that identify and cohere a society.  This triad reassures the society that there is order in the cosmos, within which they have significance. 
Read earlier blog post about her book. 
KL