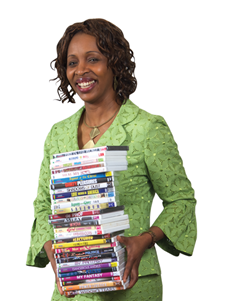 Stevina Evuleocha holding a stack of dvds (by: Jesse Cantley)
Envelope, please. The winner is Nollywood, Nigeria's up-and-coming film mecca.
"Nollywood is an emerging phenomenon in the film industry, not just in Nigeria but the world," said Marketing and Entrepreneurship Professor Steve Ugbah. "It's the No. 1 producer of films. Nollywood is first, Bollywood is No. 2, then Hollywood. In terms of income (generated), it's Hollywood, then Bollywood. Nollywood doesn't even rank."
The academic team of Ugbah and Associate Marketing Professor Stevine Evuleocha, who also are spouses, are working to change Nollywood's poor step-child status by advising the Minister of Information and film industry leaders in Nigeria about how to more profitably market, brand, and sell their pictures — predominantly low-budget B-movies made in less than a month — to audiences at home and around the world.
"The actors aren't getting paid as much as they could be," Ugbah says. "The industry is struggling. Our overall message is: First in terms of marketing, they have to improve the quality of the movies. Then, the people who are actually charged with marketing the movies need to be taught some basic marketing principles."
Read more about how CSUEB professors are sharing their "Nollywood know-how" in the Fall 2010 issue of Cal State East Bay magazine.  
KL