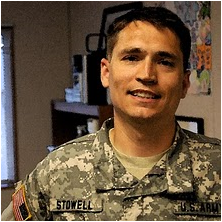 Rich Stowell
CSUEB alumnus Rich Stowell '03 will return to Hayward on Dec 1 as a guest speaker for the Smith Center for Private Enterprise Studies lecture series. His presentation is titled, "A Well-Regulated Militia: The Power of the Volunteer American Military."
Stowell currently teaches educational technology at the University of San Francisco and high school math at a charter school in Richmond, California.
He is the author of the book, Nine Weeks: a teacher's education in Army Basic Training, which combines his experiences teaching in the civilian world and training in the Army. It has been selected as a 2010 National Indie Excellence Awards finalist. 
Stowell's most recent deployment was with the California National Guard in Kosovo, where he worked as a Public Affairs Specialist for Multi-National Task Force East, under NATO command. He was the Broadcast Section Chief for MNTF-E and contributed regularly to the Task Force magazine, The Guardian East. He has also been published in the official nation-wide and state-wide National Guard news magazines.
The Smith Center lecture series is free and open to the public. Event starts at 2pm in room 311 of the old University Union. 
KL