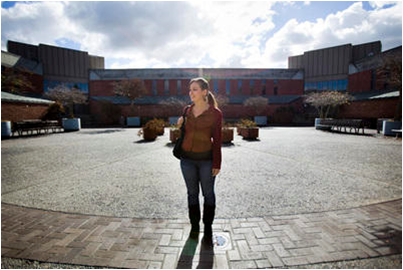 Amanda Madrid (by: Dai Sugano, Mercury News)
San Jose Mercury News reporter Joe Rodriguez profiled Cal State East Bay student Amanda Madrid for the Wish Book section, a special holiday feature dedicated to helping local citizens in need. Watch video of her story.
In the article, "From Foster Care to Caring Professional," Madrid shared her struggle through an ugly, depraved cycle of family neglect and abuse followed by years in foster care.  One of her earliest memories is sleeping in a broken-down car in Fresno with her addicted, prostitute mother and four brothers and sisters. 
Despite overwhelming challenges, Madrid has always had a love of learning and has already earned an associate degree with honors from Mission College in Santa Clara.  An aunt who had become a nurse inspired Madrid to pursue the profession.  "What I want to do is nursing," said Madrid. "If I don't get into a nursing program the first time, I'll just apply again or become a social worker. I won't give up on my dream of giving back."
At Cal State East Bay, she has been accepted into the Renaissance Scholars program, which helps former foster-care youths cover college costs. It's helped her buy textbooks and loaned her a laptop. The program is part of California Connect by 25, or CC25, an umbrella effort designed to help foster youth get through the tough early adult years.
The CSUEB community can help Madrid directly. She would really like to have a laptop of her own and needs assistance buying food. The bill for student housing is $7,600 this year, and she is trying to cover that with loans and the occasional job cleaning houses.
Make a donation to her via the Renaissance Scholars program:Indicate "Amanda Madrid" in the Special instructions for your gift section.

KL