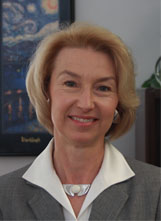 Carolyn Nelson
Carolyn Nelson, interim dean for the College of Education and Allied Studies, will join leaders from Chevron, Dow Chemical, and Antioch Unified on an education panel to discuss the best ways to inspire Antioch youngsters to stay in school.
The event, hosted by Kaiser Permanente and The East County Business-Education Alliance, will be held 11:30 to 1:30 p.m. Dec. 3 at the Lone Tree Event Center, 4800 Golf Course Road in Antioch.
This forum will discuss improving student performance and achievement; steps Antioch is taking to meet future demands; and whether education is adapting as quickly as it should to economic change.
Tickets can be purchased for $50. For details, call 925-755-9291 or e-mail Keith Archuleta at keith@emeraldconsulting.com.
KL
(Posted Dec 7) Read post-event article in the Contra Costa Times.