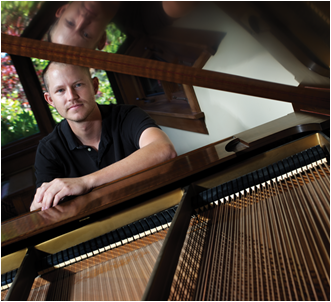 Robert Litton (by: Max Gerber)
From playing drums in garage bands as a youth to winning a national competition for music he wrote in college, Young Alumnus of the Year Robert Litton '00, 02 has displayed notable gifts and grit that have led him to Hollywood to score films.
Studying music at CSUEB opened a new world for the Walnut Creek native. There, he says, he had access to teachers who could help him understand the basics on any instrument so he could begin to experiment with composing.  Because of that trial and error process, he says he was "able to go to the symphony conductor and say: 'I wrote a minute of music, can (you listen to) it?' Or go to the choir director and say, 'Do I need to change the soprano or alto part? By the time I got to LA, I had an enormous bag of tricks."
Frank La Rocca, professor emeritus and former chair of the CSUEB Department of Music, calls Litton a born musician.
"He's not only an outstanding composer who won, as a college student, competition after competition as a performer in percussion, he's also very versatile," says La Rocca, who taught Litton composition. "Some composers get pigeonholed. He can do everything from heroic to tragic to lighthearted animation and romance ... and he can do it quickly."
After graduating from CSUEB, Litton moved on to graduate first in his class from the prestigious Scoring for Motion Pictures and Television program at the University of Southern California in 2004. Living in LA for the past five years, he's written scores for films including Love in the Summertime by Paul Wie, Gerald's Last Day by Justin and Shel Rasch, and Negotiations by Ethan Cushing, which was selected to be part of the 2008 Cannes Film Festival. By working with many first-time directors, Litton says, he's hoping to find his Spielberg "who will take me up the ladder."
Read more about Litton's accomplishments in the fall issue of Cal State East Bay magazine
KL