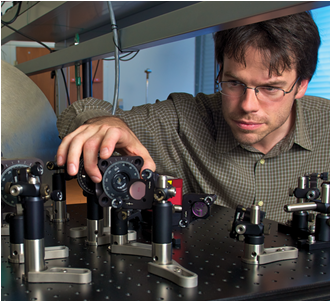 Derek Kimball
Thanks to a three-year grant from the National Science Foundation, Assistant Professor Derek Kimball is looking at how basic laws of physics apply to individual atoms.
Kimball's experiment revolves around a steel drum about the size and shape of a trash can. The drum, surrounded by lasers, mirrors, and sensors, is a shield that reduces magnetic fields — most importantly, the field produced by the earth — by a factor of 10 million. Into this shield Kimball places delicate glass spheres—he calls them "Christmas ornaments" — containing two different isotopes of vaporized rubidium atoms. Laser light then spins the atoms at precise rates and measures the difference in spin of the atoms' nuclei and their valence protons.
The goal of Kimball's experiment is to determine whether gravity alone causes those atoms to change the axis about which they spin. "Einstein said it would not," Kimball explains. "We're testing whether it could, and we're doing so 100 times more precisely than it's ever been tested before." If the axis does change, Kimball says the theory of gravity will have to be radically revised.
Read more about Kimball and other independent thinkers at CSUEB in the Fall issue of Cal State East Bay magazine.
KL