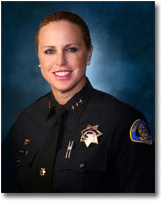 Diane Urban
It was a criminal justice class at Cal State East Bay that inspired Diane Urban to pursue a career in law enforcement.  She became a San Jose Police Department patrol officer in 1986 and earlier this month was promoted to acting assistant chief. This move now makes her the highest-ranking female police officer in San Jose history.
 San Jose Mercury News reporter Sean Webby recently profiled Urban and her accomplishments. From winning NCAA championships for discus throwing to becoming the chief sharpshooting sniper for her unit, Urban talks about how she preserved through obstacles and adversities.
When times are tough, her father's powerful words swirl in her head: "If it was easy," her dad reminded, "anybody could do it."
"I remind the men and women that we all wanted to make a difference," she said. "We do in fact serve the public, and we are accountable to them…The community depends on me, and I will not let them down.''
Read the Mercury News article.
Congrats, Diane!
KL